FEEDING FAMILIES LIKE YOURS
Our 100-year heritage and family farmer-owned philosophy is represented in every taste of Musselman's apple sauce, apple butter, and apple juice. What started in 1907 has become a symbol of tradition, value, and quality to generations of families.
As part of a cooperative, over 100 farming families own the company. Our growers take pride in nurturing their 15,000 acres of fruit orchards. They know that what they harvest and handpick will be enjoyed by another important family: yours.
Meet The Families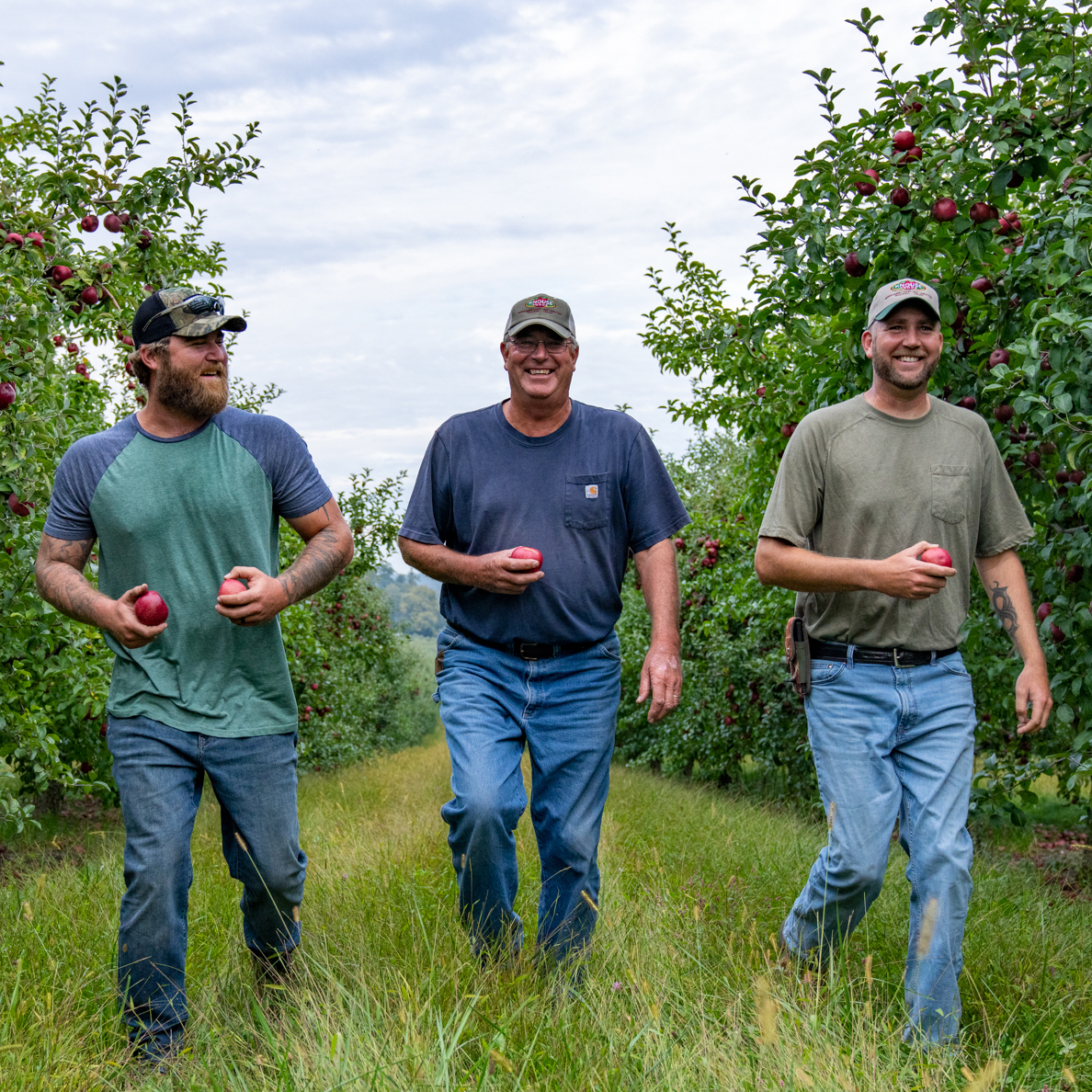 Irvin Orchards, Orrtanna PA
Folks in the fruit business tend to look up to Harry Irvin, and not just because he's 6'8″ tall. Harry and his sons, Matthew and Michael, come from a long line of fruit farmers who have been tending the trees in their Orrtanna, PA orchard for 6 generations. To him, the most important aspect of multigenerational family farming is building and maintaining strong relationships with family members, and a visit with the Irvin family shows just how well suited they are for this business. It's hard work, but telling jokes and talking football makes the time fly for the Irvin Boys, and at the end of a long day, you'll probably see Harry giving his grandkids tractor rides around the orchard. Here at Musselman's, family is a big part of who we are, and nobody represents that ideal better than Harry, Matthew and Michael Irvin.
Adams County Nursery, Aspers, PA
Here at Musselman's, we like to say that our family farmers don't just grow apples, they raise them. For five generations, the Baugher family has consistently raised some of the best apples in the state of Pennsylvania at Adams County Nursery. Chris, alongside his siblings, plans on passing the torch to the 5th generation of family farmers, who treat every acre of orchards with the care and attention that ensures that their family tradition can continue for generations to come. Like his apple trees, Chris Baugher's family just keeps growing with a 6th generation of future fruit farmers who may end up tending these orchards themselves one day. The Baughers know that Musselman's quality is a part of their legacy, and you can taste their dedication and commitment in every bite.
Showers Tree Farm, Aspers, PA
Matt and Sonya Showers may be best known for supplying some of the most beautiful Christmas trees and landscaping evergreens in the county, but their pristine rows of apple trees supply the fresh, delicious apples that you'll find in some of your favorite Musselman's products. Showers Tree Farm has grown quite a bit from it's experimental start in 1963, now consisting of four individual farms, but the family's commitment to quality has endured throughout the years across three generations. From the idyllic farmhouse overlooking a sprawling valley of orchard rows to the antique windmill spinning lazily in the Autumn breeze, you couldn't ask for a better birthplace for the flavor that your family loves.
Peters Orchards, Gardners, PA
The members of the Peters Family are apple experts in every sense of the word. Not only do they grow more than 70 different varieties of apple trees, their family owned and operated orchards have been a source of pride for Pennsylvania Apple Country since 1870. They can tell you all about the best apple varieties for sauce, pies, baking or just enjoying the crisp, refreshing crunch of an orchard fresh apple on a hot summer day. They're always happy to discuss the many sustainable agricultural techniques that they practice on the 2,100 acres of orchards that they are determined to preserve for future generations to enjoy. Simply put, Musselman's outstanding quality is built on the knowledge and expertise of growers like Dave and Katie Peters.
Wilson Brothers Farm, Aspers PA
Mark M. Wilson's family farm goes back over 150 years and six generations. Mark's grandfather, John G. Wilson, and his brother were charter members of the Musselman's grower-owned cooperative in 1949. Mark is proud to still belong to the same co-op. It means his family can concentrate on growing delicious quality fruit, knowing that Musselman's will take care of delivering his fruit to you.
Being outside is what Mark has done his entire life. "I couldn't deal with an office job. Outside things are just what I have to do." After graduating from college, Mark went to Swaziland in southern Africa as part of a 4H program teaching American farming techniques abroad. He returned home to partner with his father, William, on the family farm. Today, Mark continues the family tradition with his son, Nathan.
McKay, Marker-Miller Orchards, Winchester VA
Heather Marker-McKay took the long road to growing apples. After growing up on a farm, she started a career in physical therapy. But when the call became too strong, she returned home to land that has been in her family since 1908. Today, she is proud to represent the 6th generation of growers in her family. In fact, Marker-Miller Orchards in Winchester, Virginia, is known as a century farm—recognized as being continuously owned by a single family for more than 100 years.
Heather loves seeing her fruit go from flower to fruit, as well as the nature and nurturing that come with an orchard. She can sometimes be found hosting field trips to show school-aged children where good food really comes from, and that a woman can indeed be a farmer!
Tuckey's Fruit Farm, Gardners PA
When asked how she stays strong, Marsha Tuckey will give you a smile and say, "I don't work out, I'm a farm girl!" She started farming with her husband in 1983 with 5 acres and 100 trees. Today, she still farms, but now on a few more acres with a few more trees.
What exactly gets Marsha up and into the orchards every morning since those early days? Well, she believes everyone needs fresh, unprocessed food on their table. And maybe, just maybe, it's her apples that make one of your recipes or snack time so delicious.