The richness of our 100-year heritage and grower-owned philosophy is represented in every taste of Musselman's apple sauce, apple butter, and apple juice. What started in 1907 has become a symbol of tradition and value to generations of families.
As part of a cooperative, over 100 farming families own the company. Our growers take pride in nurturing their 15,000 acres of fruit orchards. They know that what they harvest will be enjoyed by another important family: yours.
Meet Our Growers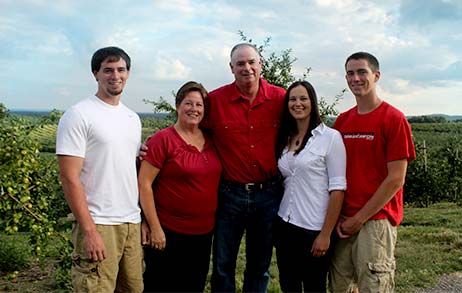 Jim Lott and Sarah Lott Zost
In 1927, William Lott started Bonnie Brae Fruit Farms, Inc., in Gardners, Pennsylvania. A Scottish minister visited the farm and proclaimed the landscape was "bonnie brae." The phrase, meaning beautiful hills, was perfect for the farm's name.
Today, third-generation Jim Lott, owns and operates the farm. His daughter, Sarah, joined the family business as the fourth-generation owner. Jim's wife, Barb, manages the bookwork and payroll while his sons, Greg and Dylan, help in the orchards. The family grows a variety of fruit on the farm including apples, peaches, nectarines, and tart cherries.
The Lower Family
In 1900, William W. Boyer started a family farm, growing apple and peach trees. Originally selling nursery stock and fresh fruit locally, Boyer Nurseries and Orchards has expanded to ship trees all over the country from their full-service garden center.
William Sr., William Jr. and David Lower are proud to be the third- and fourth-generation family members operating the nursery and 500 acres of orchards today. They are currently working to place the farm in conservation easements to preserve the land for future generations.
Mark M. Wilson
The Wilson Brothers Farm in Aspers, Pennsylvania, goes back over 150 years and six generations. For 30 of those years, Mark and his dad, William Wilson, operated the farm. Today, Mark continues the family tradition with his son, Nathan.
Mark's grandfather, John G. Wilson, and his brother were charter members of the Musselman's grower-owned cooperative in 1949. Mark is proud to still belong to the same co-op. It means he and Nathan can concentrate on growing delicious quality fruit, knowing that Musselman's will take care of delivering his fruit to you.
John & Carolyn Marker and Heather Marker McKay
Marker-Miller Orchards in Winchester, Virginia, is known as a century farm—recognized as being continuously owned by a single family for more than 100 years. Over that century, the family sold quality fruit to local residents and companies like Musselman's.
Today, their spacious farm market, bakery and "pick-your-own" fields are filled with 22 varieties of apples, as well as blackberries, peaches, pears, plums, pumpkins and red raspberries.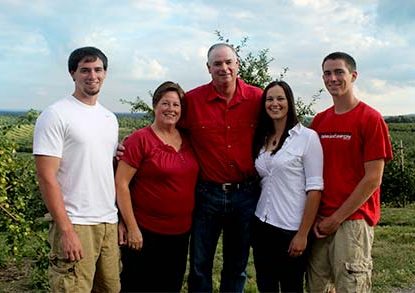 Our Environmental Responsibility

Musselman's and our family of growers have relied on the environment for our livelihoods for more than 100 years. Sustainability is not something new to us—it's why we are still here today. And ensuring our orchards will grow for the next generation of farmers is why we'll still be here tomorrow.
Not only do we pledge to meet or exceed existing environmental regulations, we also apply new approaches to cut down on product waste and reduce power and water use. Learn more about the sustainability methods we put into practice every day at Musselman's.
Many of these programs have been joint efforts with local, municipal, county, state and federal agencies and citizens' groups, and we want to thank them for all their assistance.