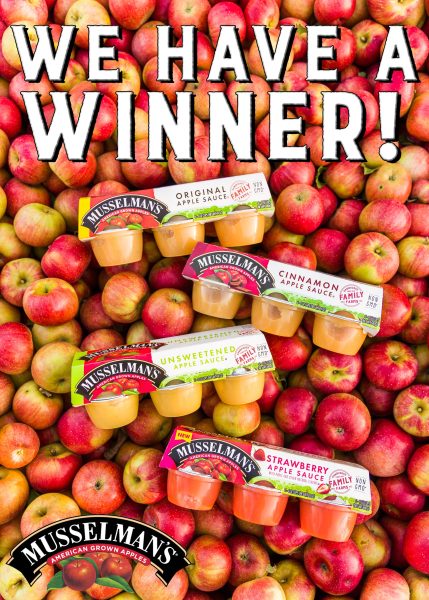 Let Musselman's take care of your child's lunch box snack, for the ENITRE SCHOOL YEAR*!
This August, we're giving you the opportunity to lighten your mental load and check off that box for the entire school year!
We've already chosen and notified a winner for our Snack to School Sweepstakes. Keep an eye on our social media pages for our next exciting sweepstakes offer!
The average U.S. school year  consists of 180 school days. The winner will receive 180 cups of their choice of Musselman's Apple Sauce flavors (up to 3 varieties).
Knouse Foods Cooperative, Inc. Social Media Sweepstakes Rules
OFFICIAL RULES
Each Sweepstakes is sponsored by Knouse Foods Cooperative, Inc. (the "Sponsor"). No purchase necessary to enter or win. A purchase will not increase your chances of winning. All federal, state, local and municipal laws and regulations apply. Void where prohibited.
1. Eligibility: This sweepstakes is open to legal residents of the fifty (50) United States and the District of Columbia who are at least eighteen (18) years old at the time of entry. The contest is subject to all federal, state, local and municipal laws, and regulations. Employees, independent contractors, interns, officers, directors, and agents of Sponsor and the associated companies are not eligible to enter; as well as the immediate family (spouse, parents, siblings, and children) and household members of each such employees, are not eligible
2. Agreement to Official Rules: Participation in this sweepstakes constitutes full and unconditional agreement to and acceptance of these official rules and the decisions of the sponsor, which are final and binding. Winning a prize is contingent upon being compliant with these Official Rules and fulfilling all other requirements set forth herein.
3. Sweepstakes Period: Each Sweepstakes Posting will state the date and time when each Sweepstakes will begin and the deadline to enter.
5. Sweepstakes Entry: Refer to the Sweepstakes Posting for how to enter.
4. Drawing and Notification: Odds of winning depend on the number of eligible entries received. Each Winner will receive a notification on the same platform as the Sweepstakes Posting after submitting his/her entry stating he/she has won a particular Prize. Winners will be contacted via public response or direct message on the same Platform used for a Sweepstakes. Each Winner will have 24 hours to respond and follow the directions provided. Each Winner will be required to provide the following information to the Sponsor: first/last name, email address, street address, city, state, and zip code. The Sponsor will only ship Prizes to addresses within the United States. If a Winner fails to respond or to provide the requested information by the deadline, the Winner will be disqualified and will forfeit the Prize. In such case, the Sponsor reserves the right to select a secondary Winner.
5. Sweepstakes Prizes: The description and number of prizes are described in each Sweepstakes Posting. Each Prize includes the shipment, if applicable, and delivery of the Prize to the Winner. Prizes do not include any other items, expenses or any applicable federal, state or local taxes. Each Winner is solely responsible for all other costs and expenses associated with receipt of the Prize, including but not limited to federal, state and local taxes and any other expenses. Prize values may fluctuate based on demand and availability. In the event a Winner elects not to accept the Prize, the Winner is not entitled to any other form of compensation. In the event a Winner elects not to use all designated Prize components, the Winner will not be afforded any additional compensation or exchange. Upon winning, the contestant will be notified by the sponsor of the procedure for redemption of contest prize. Prize components to be selected by Sponsor in its sole discretion. Each Prize is subject to availability and is subject to restrictions. There is no substitution or cash equivalent of any Prize except at Sponsor's sole discretion due to unavailability of the Prize for any reason and only then for a Prize of equal or greater value. Sponsor is responsible only for Prize delivery. Sponsor is not responsible for Prize utility, quality or other attributes. No Prize is transferable or assignable to another party. Limit one Prize per household.
6. Release and Limitations of Liability: By participating in the Sweepstakes, you agree to release and hold harmless Sponsor, its parent, subsidiaries, affiliates, the prize providers and each of their respective officers, directors, employees, and agents (the "Released Parties") from and against any claim or cause of action arising out of participation in the Sweepstakes or receipt or use of any prize, including, but not limited to: (a) unauthorized human intervention in the Sweepstakes; (b) technical errors related to computers, servers, providers, or telephone, or network lines; (c) printing errors; (d) lost, late, postage due, misdirected, or undeliverable mail; (e) errors in the administration of the Sweepstakes or the processing of entries; or (f) injury or damage to persons or property which may be caused, directly or indirectly, in whole or in part, from entrant's participation in the Sweepstakes or receipt or use of any prize. You further agree that in any cause of action, the Released Parties' liability will be limited to the cost of entering and participating in the Sweepstakes, and in no event shall the Released Parties be liable for attorney's fees. You waive the right to claim any damages whatsoever, including, but not limited to, punitive, consequential, direct, or indirect damages.
Expires Friday, 9/1/23 at 3:00 PM EST. Open to US residents only, no purchase required to enter.
This giveaway is not sponsored, endorsed, or administered by, or associated with Instagram.